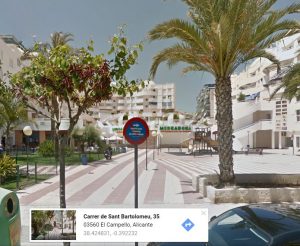 Meeting:
 AEL CAMPELLO "Big Book study" meeting
Day:
 Monday
Time:
18:00 to 19:00
Address:
 El Campello Christian Community,
Calle San Bartolome, 35 (Bajo No.6)
(Bajo No 6 – next door to Mercadona)
03560 EL CAMPELLO, Alicante.
GPS:
 38.424831, -0.392232
Meeting type*:
'CLOSED AA' but 'OPEN'on prior request
Contact:
 (+34) 648 169 045 CB North
* EXCEPT WHERE INDICATED ALL ALCOHOLICS ANONYMOUS MEETINGS ARE 'CLOSED' (restricted to alcoholics or those who have or think that they may have a drinking problem). 'OPEN' meetings indicate that non-alcoholics may also attend.
For full details on how to get to the meeting, click on the ' Get directions ' link in the interactive map Marker information box.
By Road:
From Alicante enter on A332. At First Roundabout , by "Petronor" Filling station, turn right:
From Benidorm/Valencia pass through El Campello on A332. Leaving town, at last Roundabout by "Petronor" Filling Station turn Left:
: into Avenue Ausias March. Pass over three roundabouts going straight on. At Fourth Roundabout by Lidl, turn left into Calle San Bartolome. 250 metres further the venue is in "Mercadona" Plaza on left. At next roundabout there is an underground Car Park very close to venue.
On Foot:
From Tram Station(El Campello).
Go over road to "Supercor" Supermarket. Keep "SuperCor" on left and walk down Avenida del Furs to Roundabout. (400 metres). Turn right into Calle de San Bartolome. Walk forty metres and on your right find Plaza with "Mercadona" in one corner. Venue is diametrically opposite "Mercadona" entrance.
From Tram Station(Pla Barraques):
Take steps up to Avenida Ausias March. Turn right walk down hill to Lidl. Turn Left on to Calle de San Bartolome. Walk up San Bartolome.. Venue is 250m along on left hand side in Plaza with Mercadona supermarket in one corner.
By Bus:
Number 21 Bus from Alicante stops outside of Plaza with Mercadona. (San Bartolome 35)